Welcome to
Gatesburg 2013 Centennial
Events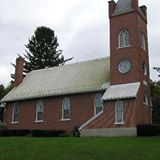 ANNUAL PICNIC - Hot Dogs, boiled corn, condiments, tableware and paper goods will be provided. Bring a covered dish to be shared

Communion Service - All attendees Welcome - Donations will be accepted benefit of the church

BlueGrass music will be provided by the Tuesday Night Jammers

1913 Corner Stone - The time vault will be opened and the contents examined. The contents will be on display to the public.

A presentation on the history of the Gatesburg Lutheran Church and its former members will be given.

Visitors may sign a guest book which will be sealed into the 2013 time vault along with other mementos and messages to be opened in 2113

Attendees are sure to enjoy visiting with their neighbors and friends. Be sure to invite all.